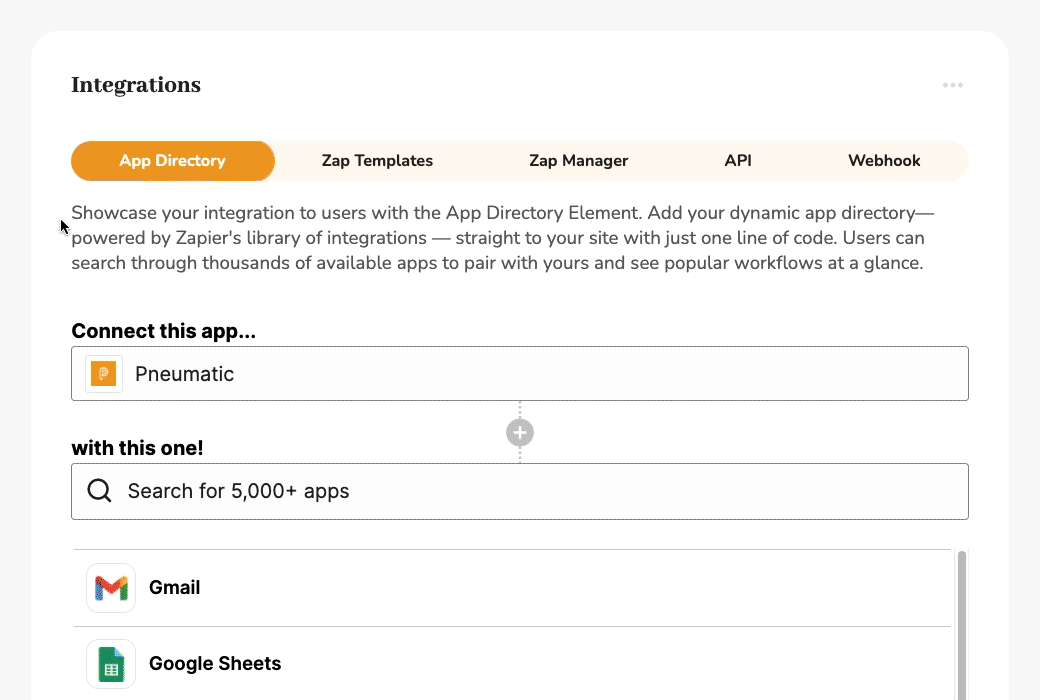 Every template has an Integrations section, a single point of access where you can:
Add new zaps from Zapier's app directory - Zapier is a powerful integration platform that allows you to easily build integrations, known as zaps, with thousands of apps.
View and immediately make use of our existing zap templates that let you get new zaps up and running with lightning speed based on predefined integration templates.
Manage existing zaps directly from Pneumatic - edit, turn them off and on, all without leaving our Template Builder. Read more about Zapier integrations
Look up your API key and API relevant template information right from the template to quickly build any type of integration with any type of app using Pneumatic's public API. Read about how to launch multiple workflows through the API
Subscribe to or unsubscribe from Pneumatic Webhooks so your app can get automatic updates from Pneumatic whenever workflows are launched or completed or whenever tasks are completed or returned. The template builder interface allows you to subscribe to or unsubscribe from all events at once. View the webhooks documentation
All of this functionality is available in one place. Don't stop when you're done building out your template - go ahead and integrate it with your other apps to fully automate your processes.
---
Ready to get started?
It'll only take a minute