Workflow builder
Each step of the workflow has its task description or standard operating procedure that can be built, including variables defined in kick-off form or previous step output fields.

Whether you want to hire an employee, onboard a customer, or approve an expense — every task in Pneumatic delivers a customizable URL, allowing to combine the tools you use into a transparent workflow. Custom kick-off processes help to make every workflow genuinely unique.

Delays between stages will snooze the processes, allowing your team to focus on what matters most now.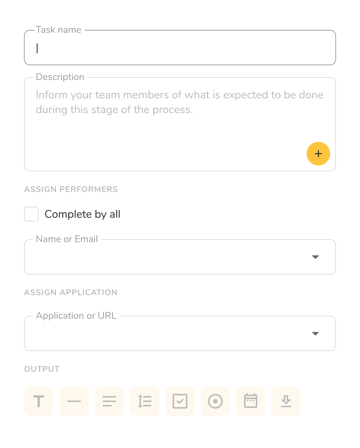 Workflow optimization
With Pneumatic, not only can you model workflow, but also easily fine-tune and optimize it over time. Every improvement in the workflow template automatically updates all the tasks and processes currently running.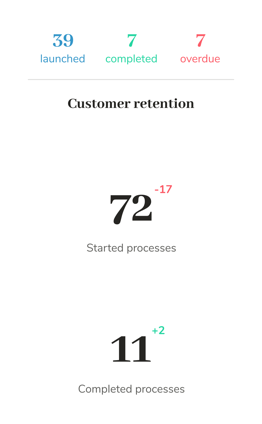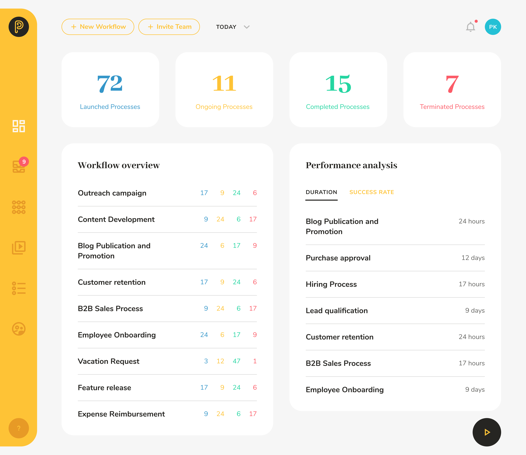 Process overview
Pneumatic give you a full real-time view of all your processes: currently running, snoozed, or completed. It tells you precisely at what stage they are and if they require your attention.
Powerful search helps you find all your workflows, tasks, and processes. You can search for process titles, descriptions, comments, and kick-off form fields.
---
Process highlights
Process highlights is a customizable granular report based on your running processes and activity feed. It can be filtered by the workflow, time range and user to give you an idea about who did what and when.
It's a great way to see what processes had activity today, this week, or last month.
Weekly email digest
The weekly digest is a regular email report sent to a Pneumatic account owner, that highlights your workflow performance metrics.
Each Monday morning, you will receive a summary report giving you a breakdown of your previous week's results, such as the number of processes started and completed.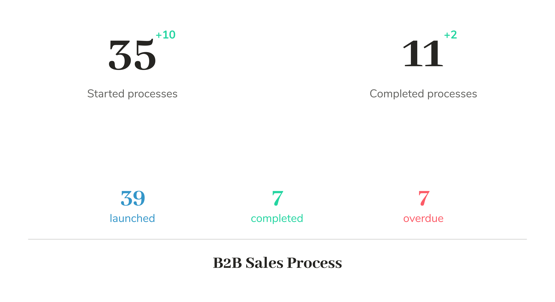 Zapier integration
and API access
You don't have to initiate your processes manually. Effortlessly integrate your workflows with a 1000s of apps via Zapier! Check out all our pre-built zaps or build your own.
Are you in a mood for building your custom integration? That's also possible. The Pneumatic API is quite powerful and fun to use. Schedule your processes or update your other apps when actions happen inside Pneumatic.
We are glad to offer comprehensive documentation to help you start working with Pneumatic API, as well as support if you get stuck.
---
Multiple user roles
1.
Grant members of your varying team levels of access.
2.
Manager-level permission allows inviting users, designing workflows and kick-off forms, and building reports.
3.
Managers can run processes based on workflows they own.
4.
Limited employee permission only gives access to tasks.
Optimized for mobile
Pneumatic workflows operate beautifully on all platforms and devices, allowing track progress and collaborate with your team wherever they are.