Alle Artikel anzeigen
Top Workflow Management Systems on the Market
Workflow management is all the rage as it turns your business into one lean and mean efficiency machine. We're looking at the best workflow management offerings on the market today to help you make the right choice.
What is a workflow management?
A workflow is a sequence of steps that produce a predictable result. In general, a running business can be viewed as a collection of workflows that are run over and over again to create value. A workflow is, in many respects, similar to an assembly line in that it has several stages at each of which different teams do their part of the job.
Some steps in a workflow can be completed at the same time, but typically, a workflow comprises a sequence of steps in which the results of each step are used in one or several subsequent steps.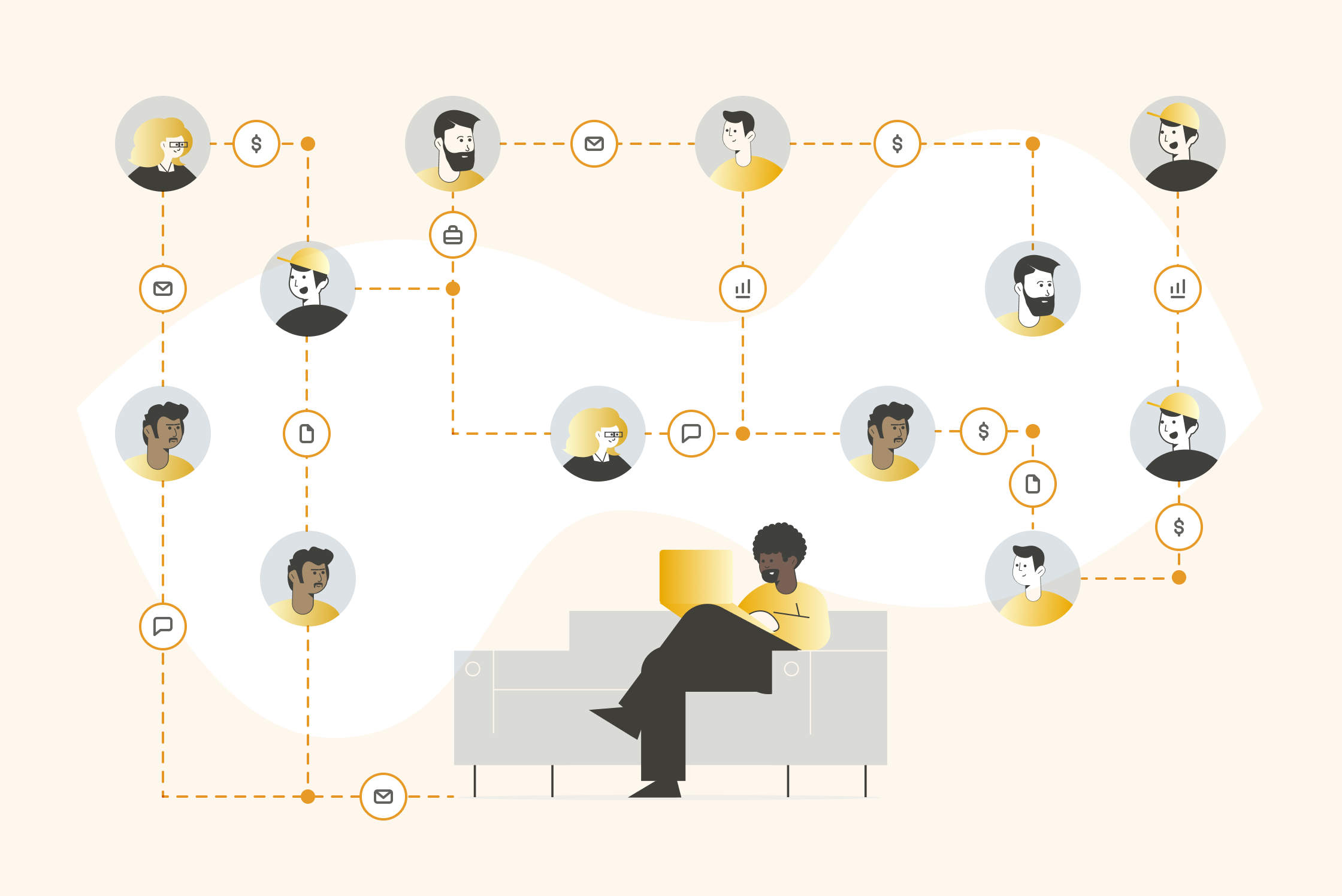 What is a workflow management system?
A workflow management system is a software application that lets you build workflow blueprints/templates and run multiple workflows from them, which your COO can then track and analyze to maximize efficiency.
So a workflow management system needs to allow you to:
Describe the types of workflows you want to have in your system as sequences of steps;
Run individual instances of workflows and track their progress;
Set up the handover of workflows from team to team as they progress from stage to stage;
Set up the automatic assignment of tasks to teams when a workflow moves from stage to stage;
Analyze performance by looking at completed workflow statistics.
Naturally, extra features, such as automation and integration with external systems or components that support engagement with external users, are welcome. However, the ones listed above are the absolute minimum.
Let's now consider six SaaS solutions that bill themselves as workflow management systems.
Our TOP tested products
Process Street

Process Street offers a friendly spreadsheet-like interface where you can quickly build workflows. Workflow instances in the system are referred to as workflow runs. Ease of use is the key selling point of Process Street. It lets you get up and running with workflows in very little time, especially if you take advantage of the huge library of workflows that you can use as is or as inspiration for your own custom processes.
Process Street does offer all the critical workflow management features but it kind of moves them one step away from you: the entities you create in Process Street are checklists rather than sequential workflows. Furthermore, when a new workflow run is created, by default, the people assigned to it get to see all of the steps/items at the same time and can check them off in any order.
Process Street allows you to designate some steps in your workflows as "stop-tasks", i.e. tasks that must be completed before any subsequent steps can be accessed. In other words, stop-tasks can be used to implement standard sequential workflows in Process Street. In this case, your team will only see new tasks after the current task has been completed.
Each team member gets their own inbox where they see the tasks/steps currently assigned to them. In the case of checklists, they see all the steps simultaneously, so the inbox can occasionally get cluttered.
By and large, though, Process Street does let you build and manage workflows. In addition, it offers some extra features, such as integrations with other systems and guest users, meaning you get the option to invite people who don't have a Process Street account to specific workflow runs and steps.
One benefit of having workflows behave like checklists by default is that it makes the implementation of parallel steps really easy — just don't designate a step as a stop-task, and it will be assigned at the same time as the next stop-task in the sequence.
Process Street also offers white label options in the enterprise plan(starting at 1650 dollars per month), including the use of your own domains and logo in the system.
Process Street no longer offers a free plan.
Pros
Cons

Familiar spreadsheet-like interface

Easy to use

Lots of gamification

A large library of workflows

Checklists by default — extra steps are needed to turn them into workflows

No free plan
Pipefy

Pipefy is an agile process management system in which business processes are described as pipes, highly customizable Kanban boards that all sorts of phases can be added to as opposed to the standard agile 'to-do', 'in progress', and 'done'.
It's an excellent system for those who want to remain agile while introducing some structure to their processes. It lets agile users stay in their comfort zone for as long as they need, but under the hood, it does offer some advanced automation features that let you go beyond the manual movement of cards between phases, albeit with some effort.
Pipefy doesn't offer the automatic handover of processes from team to team by default. Instead, when a team gets assigned a card in a pipe (which represents an individual process instance), they stay with it throughout unless the manager manually drops some team members from the card and adds others as it moves through the pipe.
However, automations can be set up to add team members and delete them from cards as they move from phase to phase. So while you can set up workflows in Pipefy, you're going to have to do some extra work to implement the automatic handover of tasks.
Your team members see their work in the My Work section, where they find all the cards currently assigned to them. They also see some extra information there, like the pipe and phase of each card. Some of this information may not always be relevant, but Pipefy follows the philosophy that it's better to have something and not need it than to need it.
Pipefy offers a free starter plan.
Pros
Cons

Great interface

Very agile friendly

A good library of ready-to-use pipes

Implementing handover of pipes requires extra effort, no handover of processes from team to team by default

UI focus on COO experience, not team members
Tallyfy

Tallyfy offers an intuitive interface for building workflow blueprints and running workflows. There is a broad selection of data types that can be added to workflow steps to pass information from one step to the next. The system is easy to use, so you can get up and running quickly.
One big caveat is that while Tallyfy preaches the virtues of sequential workflow management, it falls a little short in the implementation department: the entities you create (known as workflow blueprints) by default launch checklists in which all the steps get assigned at the same time and can be completed in any order.
Unlike stop-tasks in Process Street, in Tallyfy, the only way to achieve sequential assignment and completion of tasks is by adding conditions to each task in your workflow to specify that it is only to be shown/assigned after the previous task has been completed.
So can you do workflow management in Tallyfy? You sure can. Do you need to do extra work to achieve it? — Yes, you do.
While Tallyfy is a perfectly capable workflow management system, you may experience a bit of cognitive dissonance when you start using it after reading the documentation: the documentation talks about sequential processes and the passing of the baton, but the system's default behavior is to hand the baton to everybody at the same time.
Tallyfy has no free plan, and the entry-level plan is for document management only.
Pros
Cons

Documentation management is a nice extra

Powerful conditional logic that allows for the creation of sequential workflows

A large library of workflow blueprints that can be used as is or modified

Workflows are checklists by default

The only way to achieve the sequential assignment of tasks is through conditional logic

Focus on COO experience
Kissflow

Kissflow is a long-time player that's been in the market for quite some time and is targeted primarily at larger companies (20+ people). Kissflow supports proper sequential workflows and allows for parallel steps to be easily added to workflow blueprints, which are designed like flowcharts.
Kissflow offers customers more than just workflow management, positioning itself as a workflow and project management system. It lets users create workflows and Kanban boards, so they can run some processes as more traditional assembly line workflows while taking advantage of agile management for other projects.
In terms of workflow management, Kissflow ticks all the boxes and offers agile management as a bonus. The only downside is that Kissflow deliberately aims for a bit of a "walled-garden" experience with regard to users: there is no support for guest users or external user interaction as of the time of this writing.
And the experience of your rank-and-file guys can be a bit overwhelming as, like some of our other entrants on this list, Kissflow chooses to err on the side of showing users more information rather than less.
Kissflow has no free plan.
Pros
Cons

Full-fledged support for proper workflows

Support for parallel tasks

The option to use Kanban boards for some projects

A large library of workflow blueprints to use or modify

COO centric

No guest users whatsoever
Pneumatic

Pneumatic ticks all the classic workflow management boxes: you get your assembly line processes, the handover of workflows from team to team, the automatic assignment of tasks.
This focus on classic business process management translates into a streamlined interface with little clutter. Plus, enough attention is paid to the experience of rank-and-file staff: each team member gets their own "bucket of tasks" that they are expected to complete. Managers can even choose to do full-fledged need-to-know basis management by only giving their reports access to specific tasks while keeping the workflow details to themselves.
As of the time of this writing, there is no support for parallel tasks: the only way to get something similar is by adding checklists to tasks, but checklists in Pneumatic are a separate entity. They're nice, but they're not the same as the sort of parallel tasks you get in Kissflow.
Nice extras include:
Easy integration with other systems through Zapier/Make.com and generous support for various types of external user interaction;
Customers and vendors can start a workflow via a publicly shared kick-off form;
You can invite people outside your company to the task, free of charge.
Pneumatic offers a most generous free plan for up to 5 users, which lacks some "premium" features, like conditional logic. Last but not least, Pneumatic also offers a range of white label options at very reasonable prices, i.e. you can use Pneumatic as a back-end for your own workflow management and workflow consultancy business.
Pros
Cons

Full-fledged sequential workflows

Great supported for restricted user access to workflows

Guest users

Good rank-and-file experience

A decent library of workflow templates

Cheap white label

Lack of support for parallel tasks (only surrogate implementation through checklists)
Cflow

Cflow ticks off all the boxes of a workflow management system, allowing users to build consecutive and parallel workflows in an intuitive graphical user interface.
Cflow makes use of conditional logic to determine the sequence in which stages get assigned to performers. The default flow is from start to finish, but you can add rules to let your process move backwards or jump to an arbitrary stage, depending on the state of your process variables.
In addition, Cflow offers full-fledged support for parallel stages. Another strength is the powerful reporting system that lets you build a broad range of graphical and tabular reports on your workflows. Cflow also allows you to export reports into Excel and PDF, however, it's a paid feature;  you get charged on a per-report basis.
Where Cflow falls short is in the day-to-day experience of rank-and-file staff: unlike other systems on our list, Cflow has no dedicated My Tasks/My Work/Inbox view. Users just get the Dashboard on which they see all the workflows currently in the system and the stage they're at, plus any notifications relevant to them.
Involvement with external users is also limited: you get public forms that let you launch new workflow instances in the system, but there is no way to invite external users to your workflow stages.
Cflow offers a partnership program, but using them as a back-end for your own workflow management business comes at a relatively steep price of several thousand dollars a year (as of the time of this writing), plus you still have to pay for every user.
Pros
Cons

Powerful workflow template builder

Support for parallel stages

Powerful conditional logic in workflows

Minimum learning curve after Trello or other Kanban tools

A very consistent implementation of Kanban boards and agile process management

Portals that let you easily create collections of shared forms

A huge library of read-to-use templates, including entire collections of templates for specific use cases

Exhaustive help center
---
Try Pneumatic
Unlimited for Free